If you're visiting a picturesque destination like Kilkenny Ireland as a contemporary, digital-savvy traveler, your trip will never be complete without taking photos. And of course, your photos won't just get buried in your phone's gallery — they'll be uploaded on your social media profiles as travel memoirs everyone can see. 
Kilkenny City travelers are lucky to have a plethora of photo opportunities, from its charming cobblestone streets to its historic building. The well-preserved medieval city is packed with castles, cathedrals, monasteries, museums, and other heritage sites that allow you to step through the centuries. 
Stroll along the Medieval Mile, a discovery trail that links the majestic 12th century Kilkenny Castle to the 13th-Century St. Canice's Cathedral. You'll witness all sorts of medieval sights in-between that might be perfect picks for your portraits and travel memoirs. It's also easy to see all of them if your Kilkenny hotel is located in the heart of the city. 
Without further chitchats, check out our top picks for the best IG-worthy spots in Marble city's Medieval Mile, 
1. Kilkenny Castle, Gardens, and Long Gallery
Who goes to Kilkenny without visiting Kilkenny Castle? The heart of Kilkenny City is the 12th-century Anglo-Norman castle, overlooking the River Nore. 
Kilkenny Castle and the rolling green fields surrounding it are popular spots for pictorials, including wedding pictures. You can instantly feel like royalty when you strike a pose in front of this gorgeous tourist destination. 
Should you want to see its interiors, you may visit the Long Gallery, one of its rooms, which is adorned with original paintings. 
2. The Medieval Mile Museum 
The former 13th-century St. Mary's Church has been renovated into a modern museum: The Medieval Mile Museum. It's listed as one of the must-visit places in Kilkenny to learn about medieval history. The museum is home to Kilkenny's Civic Treasures and replicas of some of Ossory High Crosses that illustrate the local Gaelic monastic heritage. 
Aside from the historical artifacts housed in the museum, the building's architecture itself is a marvelous sight. Crisp white walls with some cobblestone details, impressive archways, and exposed ceilings made of wood — all these features call for a nice picture taking. 
3. Butter Slip
If you're looking for a hidden IG-worthy spot that looks taken straight out of a Harry Potter scene, find the Butter Slip. Not to be confused with "Butterslip gift shop" (which looks Pinterest-worthy too), Butter Slip is a narrow walkway built in 1616 and once surrounded by the stalls of butter vendors. 
The narrow and dark walkway is characterized by its arched entry and stone steps, running underneath two houses and linking High Street and St. Kieran's Street. Kilkenny has a lot of charming narrow medieval corridors but Butter Slip is considered the most beautiful one. 
Recommended Articles
4. Kyteler's Inn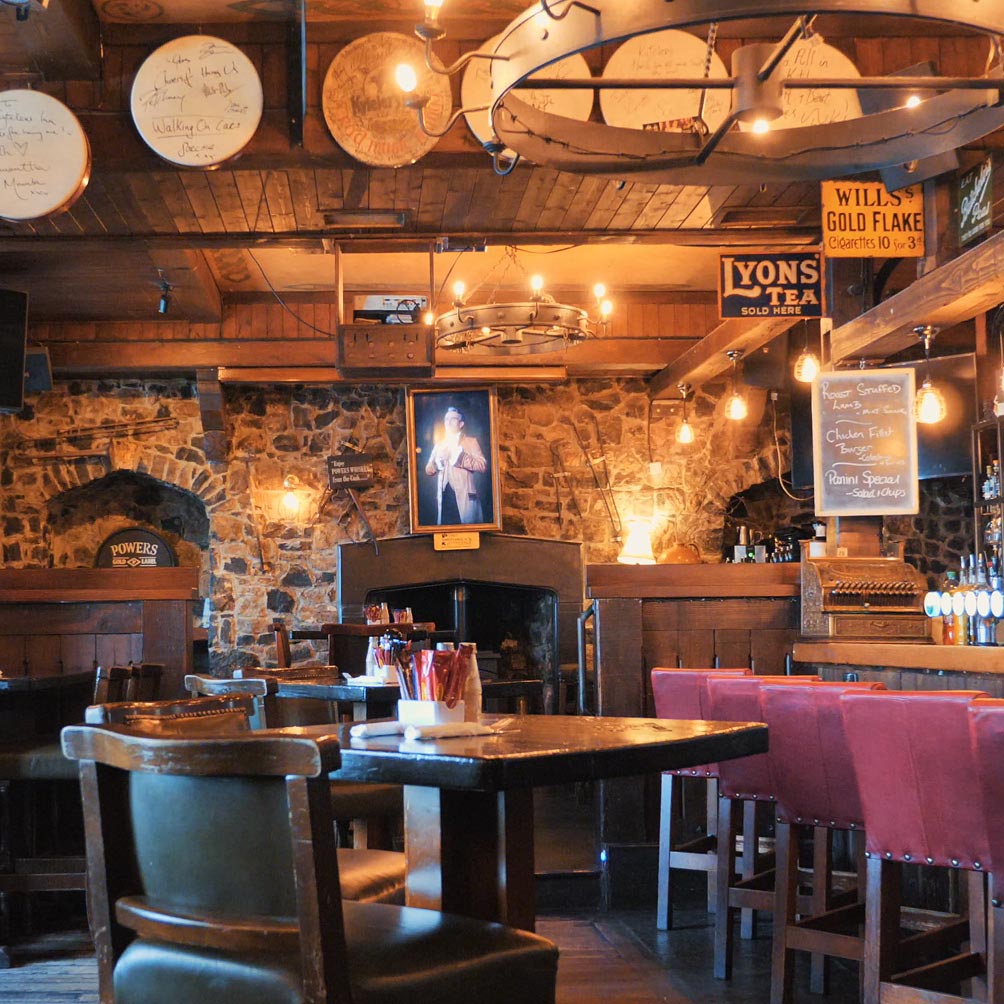 Ireland is home to a wide array of pubs and inns that have been standing for centuries. One of the must-visits for a slice of history and experience is the Kyteler's Inn. This gem at Kieran Street is one of the oldest inns in Ireland. 
Dating back to 1324, Kyteler's Inn was owned by Dame Alice de Kyteler, a.k.a Ireland's first witch. Today, the inn retains its old-world charm by serving traditional Irish fares, hosting traditional Irish music sessions, and keeping the interiors looking like we're existing in the medieval era. 
5. Rothe House 
About a five-minute walk from St. Mary's cathedral is Rothe House, a Tudor home that's been standing since 1594. This merchant's house is built around two courtyards. Today, it consists of museum exhibits including a well-worn Viking sword. 
6. Black Abbey
The Black Abbey might look gloomy and intimidating from the outside but wait 'til you enter and see its interior's beauty. The monastery, which was home to a group of Dominican Friars back in the 13th-century, boasts its large and impressive Rose Window. It's the largest Rose Window in Ireland, depicting the five mysteries of the Rosary. Time your visit wisely and you'll see how majestic it becomes when the sun shines directly behind the vivid stained glass window.
7. St. Canice's Cathedral
Whether you're a religious folk who'd love to visit impressive churches all over the world or you're a history and architecture geek, St. Canice's Cathedral should be included in your Kilkenny itinerary. This limestone, English Gothic-style cathedral is the second longest cathedral after St. Patrick's Cathedral in Dublin. 
Beside the cathedral stands a 100-feet 9th-century round tower, an example of a well-preserved 9th-century "Celtic Christian" round tower. It's officially the oldest edifice in Kilkenny. You can climb it to see the panoramic view of the medieval city. Just be warned: it's steep and narrow and is not for the faint-hearted and claustrophobic. 
8. Medieval Mile streetscape
You don't have to step inside a historic building or a paid attraction to get a great photo from your Kilkenny trip — the narrow, cobbled streets themselves are photogenic. Have a copy of the Medieval Mile map and immerse yourself in a picturesque self-guided walking tour. Walk along the cobblestone streets with an array of quirky restaurants, cafes, pubs, boutique shops, inns, and hotels with colorful facades. 
Kilkenny city is a well-kept gem that begs to be discovered…and photographed! Which of the following spots is your favorite? Let us know in the comments below.