Tourists who have experienced Kashmiri hospitality are fondly calling it 'heaven in the earth'. The authentic Kashmiri vibe is reflected in Kashmir's natural beauty. Beautiful valleys, uncorrupted forests and rivers, saffron farms, and beautiful views of the mountains are just a few of the many highlights in Kashmir.
For couples looking for a romantic getaway or a family who wants to enjoy a peaceful, natural environment, Kashmir is the ideal destination. Kashmir is an excellent choice for solo travelers. You can find many places in Kashmir that will make your vacation unforgettable.
You have two options: you can make your own travel plans or you can purchase a Kashmir holiday package for your family. To customize your tour to meet your budget and travel needs, you can consult a travel agent. To make your trip memorable, we have listed the Top 10 Tourist Places To Visit In Kashmir In 2022. You will find many tourist attractions and tourist activities in Kashmir.
To make your trip memorable, we have listed the Top 10 Tourist Places To Visit In Kashmir In 2022. You will find many tourist attractions and tourist activities in Kashmir.
Islamic Religious Places
Hazratbal Masjid
jamia masjid srinagar
Pathar Masjid
HOly family catholic Church
Khanqah-e-Moula
Best Places you should Visit
Betab Valley
Shah Kashmir Arts
Dachigam National Park
Sinthan Top
Dal Lake
Tulip Garden
Pari Mahal
Shalimar Bagh mughal garden
Nigeen lake
Gulmarg Gondola
Hari Parbat
Doodhpathri
Bahu Fort
Tulian Lake
Wular lake
Sheshnag
Top Ten Tourist Attractions In Kashmir
1. Pahalgam
2. Gulmarg
3. Srinagar
4. Leh
5. Sonamarg
6. Amarnath
7. Hemis
8. Vaishno Devi
9. Patnitop
10. Doda
Where To Stay
Always starting from the capital bodes well and there are plenty of wonderful places you can temporarily call home in Srinagar. This is a must-stay for anyone looking for luxury and relaxation in the Kashmir Valley. Situated in the exclusive hilltop enclave of Kralsangri, the Vivanta Dal View is a stunning five-star hotel in Srinagar, Kashmir.
The LaLiT Grand Palace in Srinagar, India is both gorgeous and delicious, set amidst the Himalayan mountains and the shimmering Dal Lake. A Chinar restaurant, which is renowned for its culinary excellence, is located in Kashmir.
Where To Shop
Spice vendors in Kashmir
The most interesting shops in Gulmarg are Faiz Shawls, Shahab Textiles for authentic attire and fabrics, and Ladakh Art Palace for its handicrafts and jewelry. The city of Srinagar is the holy grail of shopping in Kashmir. The markets are famous for pashminas, spices, carpets, and walnut wood. In the touristy areas, you'll find a mix of local and touristy shops.
We recommend Saklain's Coterie for essential oils and handmade soaps, M Sadiq & Sons for paper mâché crafts, Amin Bin Khalik for dry fruit, Suffering Moses for wooden carvings, spices, and Kahwa at Kashmir Store, and Woodford for walnut furniture.
Where To Eat and Drink
Igloo Café
This is a great state for anyone who loves good food. You'll have plenty to eat, especially if you love seafood. The best discoveries are often made on foot, but you can get the same treats from bakeries that make fresh puffs of sheermal and baqerkhayn, and you can eat the same spicy dishes at roadside dhabas as those run by local people.
Eating the local cuisine should be a given, but there are several restaurants in the area that'll give you a nice sit-down, as well. In Gulmarg, the Nedous Dining Room is an icon, with the likes of Mahatma Gandhi, Nehru, Jinnah, and Mountbatten planning their historic moves over a hot, wooden log Bukhari.
The Hunter's Bar, located inside the same hotel, is the perfect place for a late-night cocktail or a post-dinner drink. Bookmark the Igloo Cafe, a fully-enclosed igloo for an Instagram-worthy night.
When you visit Srinagar, make sure you try out its many options for chicken tikka, butter chicken, mutton, or even roasted duck. These are some of the best chicken and lamb dishes you'll find there.
I love a good cup of coffee. That's why we chose Books & Bricks, and our next stop was Chai Jaai. It's perfect for the outdoors and has a beautiful atmosphere.
The Khyber Himalayan Resort & Spa
These Mascot Houseboats are a wonderful alternative to a trip to the seaside. The best place to dock your boat is by Nageen Lake, a great place for swimming, fishing, and relaxing. You can get boats that can sleep 5 or 6 people, so it's pretty big. It's also a family-friendly boat.
If you plan to visit Gulmarg, it is a good idea to stay at The Khyber Himalayan Resort & Spa. It's located at an altitude of 8,825 feet and has a spa by L'Occitane. The resort also offers a golf course, which is among the world's highest.
You can feel the chill seep into your bones at the Heevan Retreat Gulmarg in Kashmir.
With its convenient proximity to the slopes, this condo offers quick access to the Gondola and numerous hiking trails that lead into the forest. Samavar is a tea lounge for when you're not drinking saffron-laced kahwa at their tea lounge.
These are the top places you can visit in Kashmir for your holiday. The type of vacation you want and your budget will determine the travel choices and needs that you make.
1. Pahalgam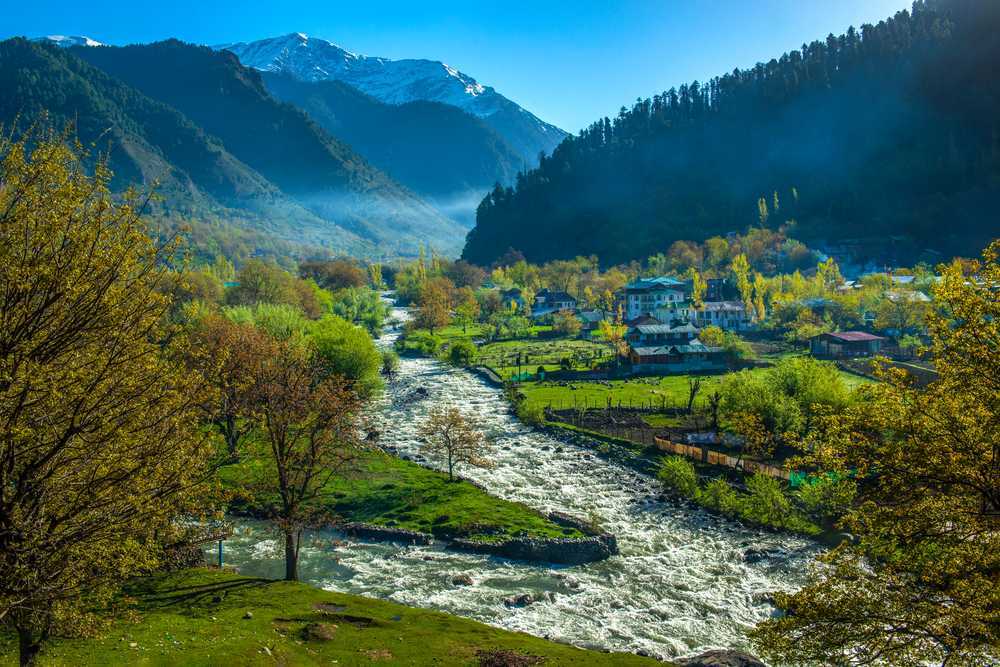 Pahalgam is a wonderful place to visit if you want to capture the beauty of Kashmir. Pahalgam, a beautiful place in Kashmir, will be etched in your mind for many years. Pahalgam is a family-friendly spot that will make your vacation unforgettable.
Pahalgam is situated at approximately 2700m above sea level. It is located 95 km from Srinagar, the main city. Pahalgam's lush green forests, lakes, and valleys are what make it so beautiful. Pahalgam offers tranquility and serenity in its purest form to all visitors.
Best time to visit: Mid-October to December-January
Tourist Attractions –Valleys Of Aru and Betab, Canoeing and Hiking, Horse Riding, and Canoeing
2. Gulmarg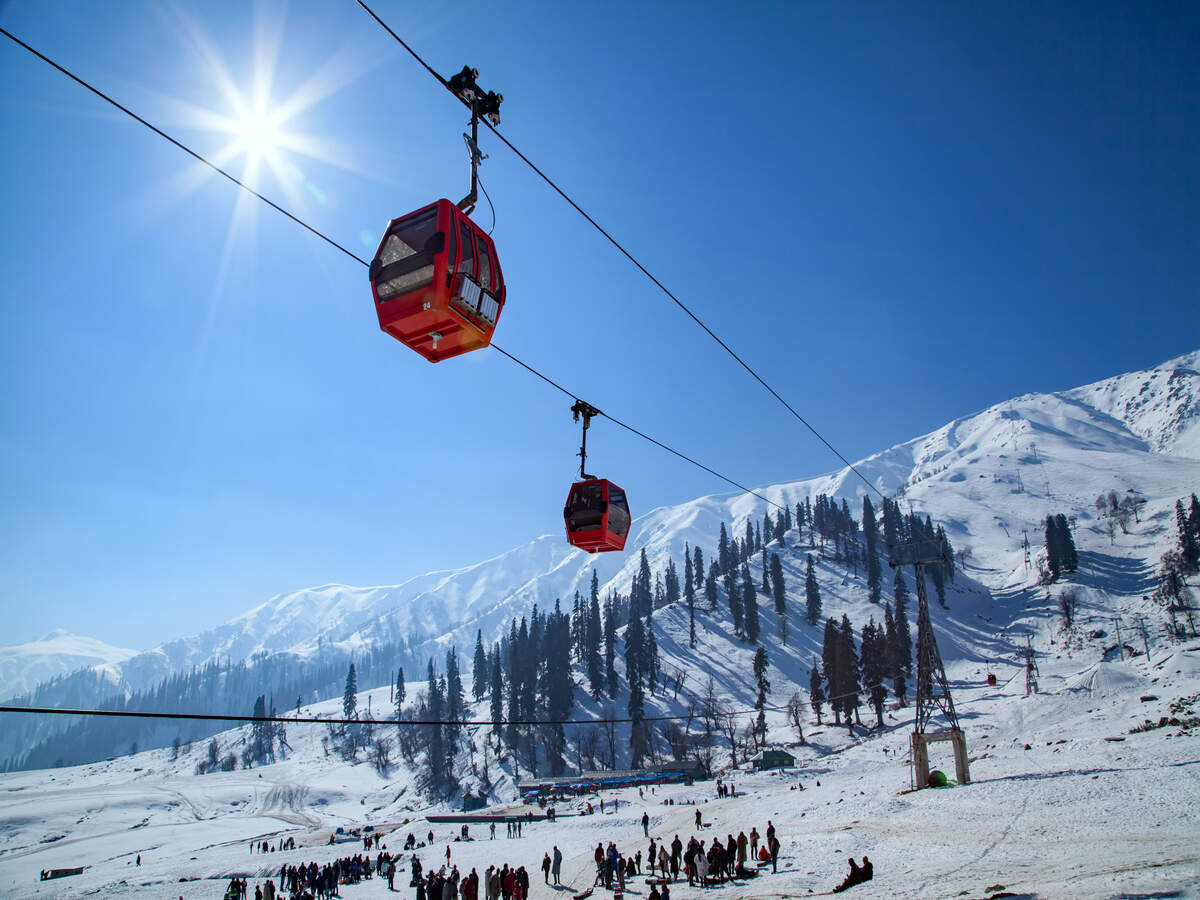 Gulmarg is a popular spot on the list of best places to see in Kashmir. It is known for its serene scenic beauty. Gulmarg is known as the "meadow of blooms". You can see the multi-colored flowers blooming in the spring, adding to the beauty and charm of the Gulmarg landscape. Gulmarg has become more popular thanks to the popularity of social media posts by tourists.
Gulmarg is a great place to go if you are looking for adventure activities in Kashmir. Skiing is one of the most sought-after adventure activities in Gulmarg.
The winter season is the best time to visit Gulmarg because you can take in the snowfall as well as the stunning views of the snow-capped mountains.
The best time to visit Mid-June to mid-October, December & Jan
Tourist attractions: Skiing, Mountain biking, Trekking, Photography
What To Do
Skiing in Gulmarg
For the true sublime state traveler, there is no need to choose just one season; there is a range of activities that will keep you engaged and satisfied throughout the year.
You could take a shikara ride in Dal or Manasbal Lake, play a round at The Gulmarg Golf Club, take a Short Lidder River Rafting at Pahalgam, go for a heritage walk through Old Srinagar, take a day trip to the Floating Post Office
In the fall or winter, the city is blanketed in white, making it a great place to go skiing, enjoy a day in the mountains or take a Gondola cable car ride.
You're never alone!
You may know that Gulmarg is the most popular resort in Kashmir. But have you ever wondered what the other places in this beautiful valley are like? Well, today we're going to introduce you to three places that you can visit.
Ziarat
Ziarat is located at the base of the Zabarwan Mountains. It's a small village, and most of the houses are made out of stone.
There are beautiful gardens and a lot of green trees all around, which makes it one of the most attractive places in this part of Kashmir.
Bara Bazaar
Bara Bazaar is a traditional market where you can buy clothes, food, and other necessities. There are plenty of small shops that sell everything from spices and jams to sweets and fresh fruits.
3. Srinagar
Srinagar, a popular tourist spot in Kashmir, is also one of the most beautiful places to visit. Srinagar, the capital city of Kashmir, is well connected to all major Indian cities. Srinagar, the largest city in Kashmir, is alive with Kashmiri culture.
A Shikara ride across Dal Lake with your family is a great option. A houseboat can be rented with all the amenities. This activity is great for couples on their honeymoon. While riding Shikara boats, many people are taking photos and making videos.
Srinagar also has many tourist activities you can enjoy. Water-skiing and trekking are the most popular tourist activities. Dal Lake is one of Srinagar's most famous attractions. Tourists can enjoy local Kashmiri cuisine, art, crafts, and more.
The best time to visit: June-October, December-January
Things To Do In Srinagar: Stay in the boathouse, Visit the Mughal gardens, Take the shikara ride
How To Reach:
By Air: Sheikh ul-Alam International Airport is well-connected to all the major cities in the world and you can easily board a flight and reach Srinagar.
By Bus: Board a government or private bus to Srinagar.
By Train: Jammu is the nearest railway station.
By Taxi: Taxi service available starting at 1500INR Per day
Places To Stay: Four Points, Shamus Javed Home Stay, S Group Of Houseboat, Radisson Srinagar, Hotel Fabulous Kashmir
Tourist attractions:
Dale Lake
Tulip Garden
Sonmarg
Nishat Garden
Yousmarg
Badamwari Garden
Mughal Gardens
Shalimar Bagh
Pari Mahal
Shikara Ride
4. Leh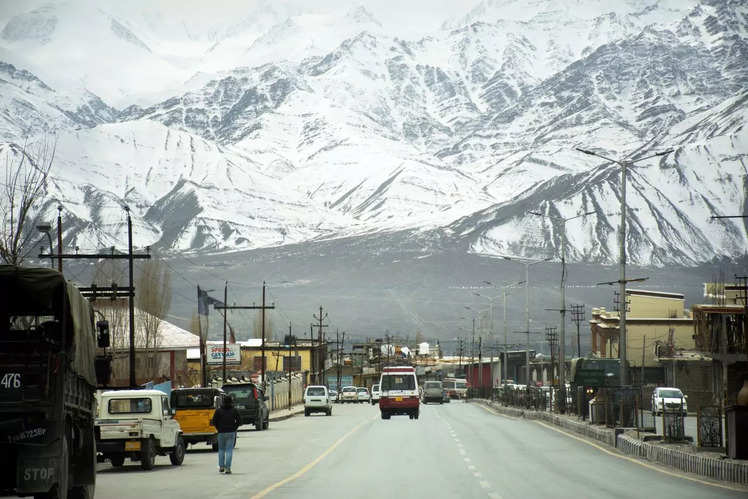 Leh, which is also one the most popular places in Kashmir, is also a top destination for motorcyclists. Every year, hundreds of bikers ride from cities to the rugged landscape of Leh. Many adventure activities are included in the Leh-Ladakh tours that appeal to travelers.
One of Leh's most distinctive features is its magnificent view of the surrounding landscape. Tourists looking for adventure activities will be attracted to Leh because of its great trekking trails or motorcycling excursions. Indian tourists are most likely to visit Leh as it is one of the most popular places in Kashmir.
Best Time To Visit: April-June, September-October
Tourist attractions: Mountain biking, Pangong Lake, Zanskar Valley, and Trekking
5. Sonamarg
Sonamarg, a beautiful place in Kashmir, is well worth a visit. Sonamarg's scenic views are among the most beautiful in Kashmir. Sonamarg can be roughly translated to mean 'Path of Gold" or 'Meadow of Gold". Named after the vibrant colors of spring, Sonamarg is a combination of these two words.
There is nothing better than relaxing in Sonamarg if you find a spot to camp and enjoy a picnic with friends or family. Nature will give you a sense of calm and help you forget about the stress of city life.
A picnic in Sonamarg's beautiful meadows is a great activity for families. Sonamarg is a charming place to visit in Kashmir, home to some of the best trekking trails throughout the whole of Kashmir. You will find some of the most beautiful camping spots along the flower-laden pathways that lead through the clear, crystal-clear waters.
Best Time to Visit: June – October, December & Jan
Tourist attractions: Trekking and Camping, as well as Photography
6. Amarnath
Amarnath is a sacred place for Hindu pilgrims. Every year, thousands of devotees make pilgrimages to Amarnath, Kashmir to pay respects and pray for Lord Shiva. This pilgrimage, also known as the "Amarnath Yatra", is one of the most sacred.
You can get a special Kashmir holiday package if you plan to travel with an organized tour. This package includes arrangements for your pilgrimage. After reaching the Jammu railway station, you can take a taxi to Amarnath.
Before you travel, it is important to verify the weather conditions. Your journey to Amarnath will be more enjoyable if you choose the right time. The trekking trails can get slippery during monsoons and may be dangerous.
Best Time to Visit: May-September
Tourist Attractions: Trekking and Pilgrimage
7. Hemis
Hemis is well-known as the place to spot the Snow Leopard. Hemis is a popular destination for adventure and trekking enthusiasts. Hemis has located approximately 50 km from Leh.
Most tourists can visit monasteries or spot rare wildlife species while visiting Hemis National Park. A relaxing nature walk is a great way for couples to take in the beautiful natural surroundings of Hemis National Park.
Beautiful views of the mountains are a highlight of Hemis. The Hemis National Park is a major attraction in Hemis. It is also a great place to visit for wildlife and photography enthusiasts.
May-July is the best time to visit
Tourist attractions: Hemis Monastery, Hemis National Park, Photography, Trekking
8. Vaishno Devi
The temple of Vaishno Devi, located in the hills of Trikuta is one of the most popular tourist spots in Kashmir. The Hindus visit this temple as a place of pilgrimage. One of the forms of Goddess Durga is honored at this temple.
Vaishno Devi is among the 108 "Shakti Peeths" that are essential for the annual pilgrimage. This temple draws thousands of tourists every year from all across India. Vaishno Devi is a great option for tourists who wish to take their family to a religious site.
March-October is the best time to visit
Tourist attractions: Trekking and Sightseeing.
9. Patnitop
Patnitop is the ideal destination for those who want to have some adventure and spend quality time with their loved ones. Patnitop boasts stunning views, making it one of the most beautiful places in Kashmir.
Patnitop is a popular destination for adventure sports like paragliding or skiing. The number of adventure activities at Patnitop has grown in recent years and has helped to attract many tourists. Patnitop is a great place for families, couples on honeymoon, and adventure seekers.
Best Time to Visit: May-June and September-October
Tourist attractions – Skiing and Trekking, Picnics, Paragliding, and More
10. Doda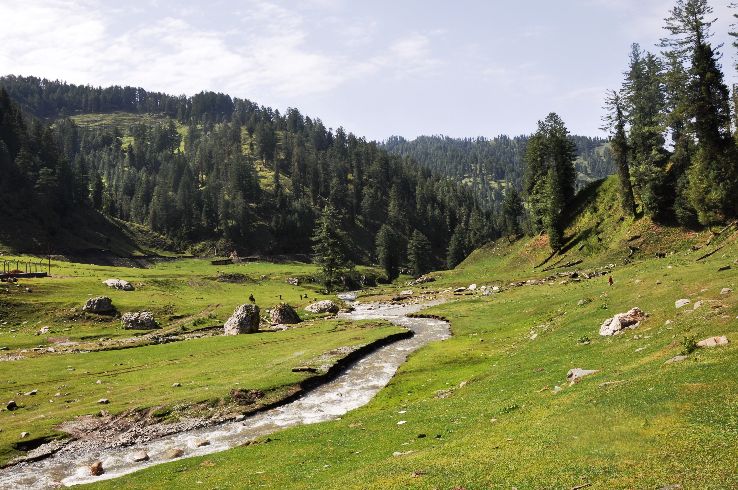 Doda, a popular but underrated tourist destination in Kashmir, is slowly rising in popularity thanks to the social media posts of tourists who have visited this stunning place.
Doda, also known as "Mini Kashmir", is a beautiful place that captures the beauty of Kashmiri landscapes. Doda is home to some of Kashmir's most beautiful landscapes, making it one of the top places to visit in Kashmir.
Doda is known for its two Hindu shrines, Athra Devi temple, and Chandi Mata temple. This is a popular destination for religious pilgrims. Doda is also a popular destination for adventure seekers who can rock climb and enjoy amazing trekking trails.
Summer is the best time to visit:
Tourist attractions are Camping, Rock climbing, and Temples.
FAQs about Kashmir